HiPath BizIP and the powerful BizIP phones are self-configuring, offer personal voice mail for every user and manage your voice and data traffic over your existing network infrastructure.
 Overview
Unify provides the market with a new technology for Voice over IP (VoIP) using P2P architecture. HiPath BizIP is a pure VoIP solution and needs just phones.
The access device BizIP AD 20 handles communication with public voice and data networks (ISDN and Internet). The intelligent BizIP 410 phones are connected to the customer LAN. They can find each other and configure themselves automatically, so they are ready to use immediately. Each phone includes a built-in Voice mail and a feature set optimized for VoIP.
For external communication the customer can use multiple SIP accounts from a VoIP Service Provider, traditional ISDN phone lines or both. The solution aims at very small to small companies. Through auto-configuration it offers 'Plug-and-Phone' capability for the customer. Expansion for additional users up to 16 phones is very easy.
Highlights
Voice and data communication combined in a single infrastructure
Quick installation and easy expansion
Professional IP phones with built-in voice mail
Extension with SIP devices for special use cases
Optimized access device for Internet, ISDN network and analogue stations
Router/firewall to connect to the DSL modem
Cost-optimized Internet telephony over VoIP providers and network operators
(SIP Trunking for single accounts or PBX account / DID)
Configuration Wizard and Web-Based Management
Feature-rich IP solution for small offices with between two and 16 stations
BizIP AD 20 Access Device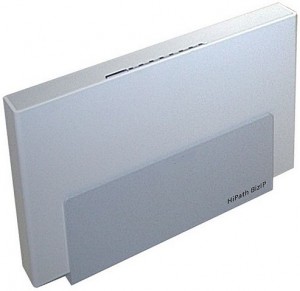 SIP gateway
Integrated router
SIP aware firewall
ISDN gateway (2 BRI)
2 analog subscriber ports
Installation Wizard
BizIP 410 Phones
Both system phones support integrated voicemail, LAN mini-switch for connection of PC and phone to one LAN port, Power over Ethernet and a headset connection. They have the proven (optiGuide) menu user interface with 3 dialog keys.
BizIP 410 e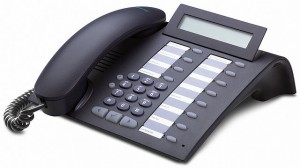 12 programmable function keys
2-line display
Loudspeaker
Not expandable
BizIP 410 a
19 programmable function keys
4-line display with backlight
Handsfree speaking
Expandable with optiPoint key module and optiPoint adapters
Features
Telephony functions
Hold / Consultation / Toggle
Attended Transfer (= join)
Blind Transfer
Call forwarding (all calls, on busy, on no reply)
Deflect call
Three-party conference
Call waiting
Call groups (max. 10 stations, reachable by external parties)
DSS keys (Direct Station Select) with LED signaling and call pickup
Station number identification / station number suppression
Call lists (missed, dialed, received, and diverted calls)
Redial (last 20 numbers), Speed-dial (per station)
Do not Disturb / Ringer off / Mute
Lock telephone (emergency calls allowed)
Programmable function keys (e.g. selected dialing or features)
Directory (system-wide)
Music on hold
Classes of service (allowed or denied lists)
List of station numbers to be dialed via ISDN
Access code for network selection (Internet, ISDN) / automatic trunk selection
Automatic fallback from VoIP to ISDN if SIP registration fails
Intercept station
Announcement before answer
Night mode
Integration of mobile Workers (Fixed Mobile Convergence)
One number service
Parallel ringing at the office phone and at a mobile phone
Home Office can be included as well
Common BizIP Voice Box
Call through HiPath BizIP from external via ISDN or VoIP line
Cost reduction with suitable contract or calls to other countries
Authentication by password
Remote feature activation for night mode and do not disturb
Voicemail
Integrated in the telephone (peer to peer)
Up to 20 minutes voice recording per voice box
Message waiting signal via LED on the telephone
Access protection (user password)
Display-guided operation at personal BizIP telephone
Message retrieval at any telephone (with voice prompts)
Callback
"Escape" to intercept position
System-wide or personal greeting
Monitoring (optional)
Message recording even when device is not functioning (Backup)
Separate voice mailboxes for groups (optional)
Auto Attendant
Automatic transfer to up to 10 subscribers or groups
Allows intercept station, 1-digit dialling or post dialling
Greetings easily configurable at the phone
Day / Night mode with different targets and greetings
Data communication / Internet
Router for DSL (external modem required)
Firewall with stateful packet inspection, enhanced for VoIP
DHCP server (can be configured)
DNS relay, support of dynamic DNS (dynDNS)
Time synchronization with Internet Time Server SNTP
Traffic shaping in direction to the DSL modem
Avoid disconnect from DSL provider using a timer
Connectable Devices
Peer to Peer IP Phones
BizIP 410 e
BizIP 410 a
For details see BizIP Phones.
Legacy devices
Entrance telephone via TFE S adapter (S30122-K7696-T313-1)
RITTO (6573.02, 5680.00, 5760, and 5751),
Siedle (NG402-02, PVG 402-0, TML 511, and the NG602-0, BSG650, BTM650-2, and DCA650 controls)
Analog corded or cordless devices with tone dialing connected to BizIP AD 20 or SIP Terminal Adapter
BRI (DSS1) voice or data devices connected to internal S0 bus (currently no features like consultation, transfer)
Headset for BizIP 410, corded or cordless e.g. GN Netcom GN 2100 or GN 9300. Call acceptance at the headset is possible together with optiPoint acoustic adapter for BizIP 410 a (Electronic Hook Switch).
Accessories like external speaker, microphone and conference kit as for other optiPoint phones (for adapters see BizIP Phones).
In the UK, connection can only be made via an RJ11 to BT socket master adaptor (available separately)
Standard SIP Devices
Standard SIP devices can be connected to HiPath BizIP in addition to BizIP 410 phones to cover additional user scenarios. The core devices are still the BizIP 410 phones with full feature set. Voice mail with message waiting, DSS keys, central phone book and CTI are not available with standard SIP devices. Only the basic features call number display, consultation, toggle, transfer and conference are supported. For configuration limitations see Characteristics . The following devices can be used:
Entry SIP phone like optiPoint 150 S
WLAN phone like optiPoint WL2 professional S or dual mode phones
Soft Phone like CounterPath X-lite
Terminal adapter for connection of Fax (Fax over IP, T.38) or additional analog phones
SIP devices can also be registered via Internet at HiPath BizIP e.g. for mobile or Teleworkers. Encrypted access with VPN is possible with an external VPN-Router.
Applications
Applications for free with BizIP
Key Labeling Tool for phones
Call Accounting Software
TAPI interface for CTI applications
Recommended and Certified Applications
Microsoft Outlook 2000/2003 dialer function
Administration and Service
No special program is required. Access to the administration interface is via Web browser on any PC in the LAN. Microsoft Internet Explorer V5.5 or later or Mozilla Firefox V1.5 or later may be used. The user interface language is set automatically through the preferred browser language. The following functions are available through Web based Management:
Access to all functions with administrator password
Configuration of users' own telephone with user password
Installation Wizard for easy basic installation
Advanced functions for access to all important parameters
Maintenance functions like SW update, exchange phones, backup and restore configuration, access trace data
Remote administration and software updates via Internet (optional)
Context sensitive online help function
Secure access through HTTPS protocol (with V1 R6, mandatory for remote access)
In addition the administration of selected parameters is also possible from the phone.
Technical Data
Maximum Configuration
Up to 2 S0 ports (network or internal bus)
16 peer-to-peer telephones BizIP 410 at the LAN
2 analog stations at the BizIP AD 20 (fax, door station or cordless)
Up to 8 SIP devices (depending on type and number of BizIP 410)
A maximum of 32 devices in total
For details see HiPath BizIP Characteristics
Network Requirements
LAN 10/100 Mbit/s with LAN switch, optional Power over Ethernet
DSL modem with LAN interface, recommended bandwidth 32 kBit/s per call with voice compression G.729 and 90 kbit/s for G.711
ISDN connection, point-to-point or point-to-multipoint
For connection to routers see HiPath BizIP Operation behind existing Routers.
Important supported Standards
VoIP: RFC 3261 / 3262 / 3265 / 3515 (SIP), RFC 2327 (SDP), RFC 3550 (RTP), RFC 2833 (DTMF/RTP)
Codecs: G.711, G.729, G.723
Data: RFC 2131 (DHCP), RFC 2663 (NAT), RFC 2516 (PPPoE), RFC 2616 (HTTP), RFC 959 (FTP)
QoS: IEEE 802.1P, RFC 1349 (TOS), RFC 2474/ 2475 (DiffServ)
PDF Available for download:

 HipathBIZIp