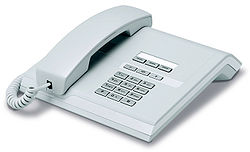 The phone OpenStage 10 T is part of the OpenStage phone family. It can be used in a HiPath 500, HiPath 3000 or HiPath 4000 environment as a TDM telephone.
Key Features
Standards
Housing, Control elements
3 preconfigured function keys
Volume keys (Loudspeaker/+/-)
Keypad with 12 keys
3 red LEDs for key signalling
Various housing colors (ice blue, lava)
Wall mountable
Key Labelling
To label the function keys of this telephone you can use the Key Labelling Tool.
PDF Manual available for download :

 User_Manual_OpenStage_10_T